You've probably heard of Newton's first law: an object in motion stays in motion, unless an outside force changes it. In your Hyundai, your brakes act as the main force to change that motion. Like any part of your car, the brakes require routine maintenance and repairs to continue functioning properly.
If you've made it to this page, chances are, you're already searching for Hyundai brake repair near me. The service team at Hyundai of Abington will make sure your brakes are in good shape so you can safely come to a stop on the roads of Willow Grove, Abington, and Lower Southampton Township.
Read on for a brief overview of our brake repair services. Then, contact our service center to schedule an appointment!
Hyundai Brake Repair near Abington
Hyundai Brake Repair near Elkins Park
Hyundai Brake Repair near Glenside
Hyundai Brake Repair near Philadelphia
Hyundai Brake Repair near Warminster
Hyundai Brake Repair near Willow Grove
Common Brake Repair Services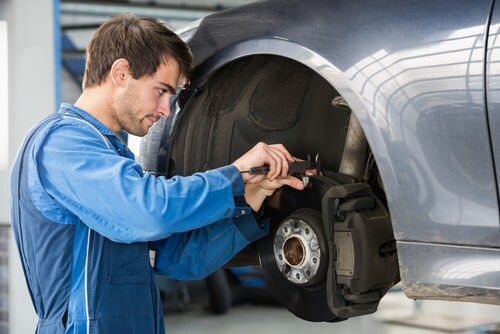 Your Hyundai brake system is made up of a lot of components that work together to slow or stop your vehicle. Luckily, our service technicians are familiar with the ins and outs of these various parts. We also have state-of-the-art equipment that makes it easy for us to work on your brakes.
Some of the common brake repair services we do are:
Replacing worn out brake pads
Bleeding the brake lines to remove air pockets
Replacing or topping off brake fluid
Replacing warped or scratched rotors
Removing debris from brake calipers
Signs You Need Brake Repair
The first step to ensure continued brake performance is proper maintenance. It's a good idea to get your brake pads checked at every oil change, so you know when they're starting to wear thin. Your service technician can also check the quality of your brake lines, brake fluid, and more.
That said, there are a few common signs you need brake repair that you'll notice while you're driving around town. This includes things like:
A squishy or spongy brake pedal
Screeching, squealing, or grinding brake noises
Wobbling or vibration while using the brakes
Vehicle taking longer than usual to come to a stop
If you notice these symptoms or any other issues with your brakes, don't hesitate to make an appointment for brake repair near you.
When you visit our nearby service center, we'll get right to work diagnosing the problem with your brakes. Before we do any repairs or replacements, we'll let you know what's going on and give you an estimate for the repairs.
Our service center also works hard to keep you comfortable while you wait. If you need to be somewhere, we can provide shuttle service or a rental car. You can enjoy a flat-screen TV and free Wi-Fi while you hang out in our convenient waiting area. There's even a play area to keep your little ones occupied.
Schedule Your Brake Repair Today
You'll feel a lot better driving around Willow Grove, Abington, and Lower Southampton Township once we're finished repairing your brakes. Contact the service department at Hyundai of Abington today to schedule your Hyundai brake repair appointment. We look forward to serving you!